Frequently Asked Questions
Frequently Asked Questions
You've got questions and we've got answers. Let us help you prepare for your visit and make your Lied experience one to remember.
General FAQ
What is the Lied Center for Performing Arts?
The Lied Center is an arts presenter, bringing professional Broadway productions, musicians, dance companies, theater companies, orchestras and more from all over the world to perform here in Lincoln, Nebraska. While the Lied Center is affiliated with the University of Nebraska-Lincoln and located on UNL's city campus, the organization is self-sufficient through donations, grants, and ticket sales. The Lied Center is also a separate entity from the UNL School of Music, and the Johnny Carson School of Theater and Film, though sometimes their productions are held in our facility and our ticket office often sells tickets to their performances.
Where does the name Lied come from?
Ernst Lied (pronounced "lead"), a 1927 graduate of UNL, went on to make a fortune in the Las Vegas real estate market. His charitable foundation, under the leadership of Christina Hixson, helped fund the building of the Lied Center and its performance fund. The Lied Foundation has also provided funding for UNL's Hixson-Lied College of Fine and Performing Arts, as well as the Lied Transplant Center at the University of Nebraska Medical Center. Somewhat confusingly, there is also a Lied Center of Kansas, a performing arts venue at the University of Kansas in Lawrence.
Does the Lied Center ever rent or sell my personal information?
The Lied Center for Performing Arts takes the privacy of our customers very seriously. Our primary use of customer information is to communicate about upcoming events and notify customers about any time-sensitive event changes or cancellations. We never rent, sell or trade phone numbers, mailing addresses or e-mail addresses. Occasionally, the Lied will pass on discounts and values offered to our patrons by partner organizations. When sending out notices for non-Lied season events, personal data is kept confidential and private within the Lied Center and its marketing contractors. If you do not wish to receive such mailings, please let us know by sending us an email at liedcenterinfo@unl.edu or by calling us at 402-472-4700.
Does my child need a ticket?
Yes, all children, regardless of age, are required to have a ticket. Youth tickets are half the price of adult tickets.
Is there valet parking available?
The Lied offers valet parking at all Lied Main Stage season events. Drive up to the Lied or save time and money by reserving your space early! For more information regarding valet parking at the Lied, visit ParkAndGo.org.
What are your ticket policies?
All sales are final. UNL student tickets require current UNL ID. Artists, prices, dates & times subject to change without notice. Use of cameras, cell phones, recording & electronic devices by patrons is prohibited during the performance except as authorized by the presenting company. Tickets obtained from unapproved sources are invalid. Sale of tickets by other than Lied Center is prohibited on premises. Tickets may not be resold at a premium. Management reserves the right to refuse or revoke admission at any time. Holder assumes all risk and danger incidental to the event and environment, and agrees not to bring any legal action in connection with such risk assumed. No outside food or drink. All bags may be subject to inspection by security staff. Your presence at the performance constitutes your consent to be photographed and/or recorded for the promotional use of Lied Center. The Lied Center is not responsible for lost or stolen items. Use of a Lied Center ticket confirms your agreement to these terms.
Tickets cannot be returned, refunded, or used for an alternative performance. Double-check the accuracy the event, day, date, and time of your performance at time of purchase. If you are unable to attend your ticketed performance of a Lied Center event, you are welcome to transfer your tickets to friends or family by giving them your physical tickets or electronically using the Lied Center app. Most tickets for Lied Season events can be exchanged ticket-for-ticket to another event in the current Lied Season up to 48 hours prior to the scheduled show time, subject to availability and price difference. Differences in ticket value must be paid in full at the time of exchange or may be applied as an account credit for future Lied Center ticket orders. Please note that rental events taking place at Lied Center are not eligible for ticket exchanges.
The Lied Center often uses professional photographers to capture images of artists and audiences. Your presence at an event implies your consent to be photographed and/or recorded for promotional use by the Lied Center for Performing Arts without compensation.
For any questions about these or other options, please contact the Lied Ticket Office at (402) 472-4747 during business hours of 11:00 AM – 3:00 PM Monday-Friday. Or click "Contact Us" at the top of this page to send an email.
Does the Lied Center offer Gift Certificates?
Yes! Lied Center gift certificates are available for purchase in any amount and can be used for any Lied Center event. They never lose value or expire, so Lied Center gift certificates are a great way to support the arts during this difficult time. Whether for yourself or as a thoughtful gift for the performing arts lover in your life, Lied Center gift certificates provide the promise of wonderful performing arts experiences to look forward to!  For more details or to order, click here.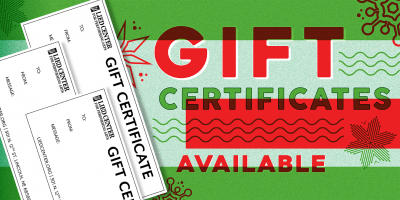 What are your security policies?
The safety and security of our guests, as well as artists, volunteers, and staff are a top priority for the Lied Center. All patrons and their belongings are subject to search upon entering our facilities.  By presenting your ticket and entering our venue, you consent to such screenings. Persons who refuse screening may be denied entry into our venues. These protection measures have been put in place for your safety. Please follow the guidelines outlined below to ensure a fast and secure entrance.
Policies vary for events depending on artists requirements and ticket holders will be notified in advance of changes to standard Lied Center policies. 
Arrive Early


Doors typically open one hour prior to a performance. Please allow enough time to get through our security procedures so that you do not miss any of the show.

Upon Entry


All persons must pass through our screening process to enter the theatre.

Bag Policy


All bags must not exceed 16"x16"x8" and will be inspected.

Re-Entry


Once you exit, to re-enter, you have to be re-screened.

Prohibited Items Policy


The following is a list of outside items which are prohibited inside of venues of the Lied Center. All prohibited items must be disposed of or returned to vehicles.

Weapons of any kind or facsimiles of weapons, including firearms, pellet guns, stun guns, martial arts weapons, pepper spray, pocket/utility knives or cutting instruments
Flammable liquids
Fireworks, pyrotechnics, flares or incendiary devices
Glass, metal, or plastic containers of any kind including cans, bottles and flasks
Outside food or beverages including alcohol
Oversized bags that exceed 16″ x 16″ x 8″
Laser pointers
Audio or video recording
Professional cameras (including those with detachable lenses) or flash photography
Laptops/tablets
Signs, flags, banners
Guests without shoes or shirts
Jewelry that could be used as a weapon including heavy chains and studded bracelets
Pets, other than service animals; not to include comfort animals
Unapproved pamphlets, handouts, advertisements
Masks for COVID protection are optional

*This list is not all-inclusive and may change or be updated at any time without notice.  Additional restrictions may apply.
Unattended items left outside venue doors will be discarded to ensure guest safety.
The Lied Center takes the safety of all our guests, volunteers, staff, and partners very seriously. Many of our fellow performing arts centers across the U.S. have also instituted these practices. Additionally, more and more of our production partners now require venues to implement enhanced security practices for the protection of their audiences and performers. While the Lied Center and the University of Nebraska respects your Constitutional right to bear arms, we ask that you respect our right to restrict the presence of weapons on University of Nebraska property, which the Lied Center is a part of.
Patron Code of Conduct:
The Patron Code of Conduct is designed to set clear expectations and encourage an environment that is enjoyable for all.
Patrons shall refrain from using foul/offensive language, fighting, obscene gestures, throwing objects and engaging in other behavior that creates an unsafe environment, or interferes with other patrons' enjoyment of the performance.
Patrons are not allowed to enter the facility with signs or banners of any kind.
Patrons must wear a shirt and shoes, sandals, or other protective foot covering.
Patrons must follow the directions of law enforcement, security, ushers, ticket takers and any other facility personnel.
First Timer's Guide
What should I wear to a performance at the Lied Center?
The Lied Center has no formal dress code. Although some patrons prefer to dress more formally, jeans and tennis shoes are perfectly acceptable. When in doubt, business casual is always appropriate.
What is Will Call and Where do I find it?
A specific place, usually the ticket office, from where a patron can pick up tickets that have been ordered and paid for in advance. Unless we are expecting a large amount of "will call" patrons, we do not designate a specific window for this purpose and any ticket office personnel can help you. For performances not in the Lied Center, "will call" stations will be at that venue.
When should I arrive? How will I know where to go once I arrive?
At most performances, the lobby doors will be open one hour before the performance, and the auditorium doors will open 30 minutes before the show. Ushers will direct you to your seat and are happy to answer any questions you may have about locations of restrooms, etc.
What happens if I arrive late?
If you arrive late, ushers will seat you at the earliest appropriate time during the performance, usually at the end of a piece. The Lied Center does have observation rooms at the back of the hall where you may see and hear the performance before the next appropriate seating time.
What if I have to leave the performance early?
If you need to leave the performance early, we ask that you leave at a point in the performance when moving around would be of minimal disturbance to those around you, such as during the applause at the end of a song. 
How long is a typical performance?
Event lengths vary from approximately 90 to 150 minutes. Events in our Family Series are typically one hour in length, with no intermission. If you would like to know the length of a particular performance, please call the Lied Center Ticket Office at 402-472-4747.
Why is there an intermission, and what should I do during the intermission?
Intermission provides a break in the show and an opportunity for the audience to use the restrooms, stand and stretch, or purchase refreshments from the concessions area. 
What is an encore? Do I have to stay for the encore?
An encore is an additional performance of a musical piece at the end of the regular concert and is requested by the audience by extended clapping or a standing ovation. It is fine to leave before the encore, but please do so before the encore begins (while the audience is still clapping).
Many classical works have three or more movements or sections with short pauses between them. It has become customary over time not to clap during these short pauses but to wait until the entire piece is over. During jazz performances however, the audience will often clap after an artist has completed an impressive solo - even though the piece is still going on. When in doubt, just follow the crowd!
Can I bring my cell phone? Can I take pictures or video?
We ask that you turn off or silence all noise-making electronics, including cell phones, because the noise they make and even the glow of the screen can be disruptive to other patrons. Due to copyright restrictions on the artists' work, taking pictures and video is prohibited at all performances. If you need to receive an emergency message while attending a Lied event, please have the messenger contact you via emergency number, 402-472-7731. If you are anticipating a possible emergency call, please leave your name and seat number at the Lied coat check.
Can I eat or drink in the concert hall? Are there refreshments available for purchase?
A variety of snacks and beverages, including coffee, cookies, cocktails, and more are available for purchase in the lobby.
What if a person sitting near me is distracting during the performance? Can I change my seat?
If a situation arises that is limiting your ability to enjoy the performance and you need to change seats, please notify one of the ushers. They will do their best to accommodate you.
What is a pre-performance talk?
A 15-minute pre-performance talk, delivered by a local expert, is held in the Steinhart Room 30 minutes prior to most mainstage events. 
Talks are designed to provide background information on artists and shows in order to increase audience enjoyment of events. Seating is limited.
Rental
Can I hold an event at the Lied?
The Lied Center has many versatile facilities that are available for rental. Each year we host a variety conferences, private performances, weddings, and other special events.