Charter Day Celebration: Music and Milestone, N 150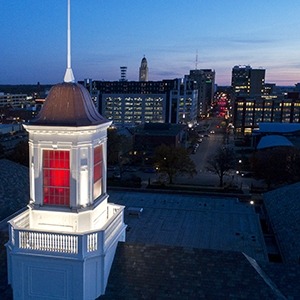 Charter Day Celebration: Music and Milestone, N 150
On Charter Day, February 15, 2019, the University of Nebraska will celebrate its 150th anniversary with a monumental evening of live performance and multimedia entertainment. At Music and Milestones, host Jeff Zeleny, University of Nebraska alum, native Nebraskan and Senior White House Correspondent for CNN, will guide the audience through some of the University's major accomplishments.
More than 300 artists unite to perform a program including Wagner's "Entrance of the Gods," Orff's "O Fortuna" from Carmina Burana and N 150-commissioned new works by Nebraska alums David von Kampen and Garrett Hope. Special features include tributes to celebrated alumni Willa Cather, Roxane Gay and Ted Kooser. 
Performing ensembles include the Cornhusker Marching Band, UNL Symphony Orchestra, UNL Opera, UNL Dance, Chamber Singers, University Singers and the Varsity Singers. They will be joined throughout the evening by notable University of Nebraska alums, including actress Marg Helgenberger. The production will seamlessly integrate multimedia and projection, music and lighting in an impressive tribute to the University.  The evening will end with a large display of fireworks.