Dutchman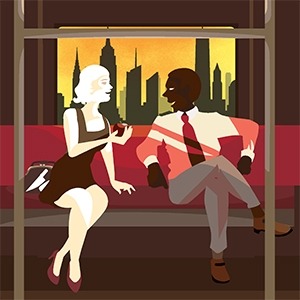 A conversation on a subway turns vicious as Dutchman's two passengers, a white woman and a young black man, flirt with race and rage. Amiri Baraka's Obiewinning drama exerts an incendiary power as it dares to uncover the anger and fear buried below polite American decorum. Join Nebraska Rep as we honor Black History Month with this historic and relevant drama.
This performance contains adult content and themes.
This performance is also available for purchase as part of a Nebraska Repertory Season package. Rep Season packages can be purchased at the Lied Box Office by calling 402-472-4747.
NOTE: this is a rental event presented by an outside organization. The Lied Center has limited control over ticketing policies and discounts for rental events.
DON'T MISS THE REP'S OTHER PERFORMANCES
An Act of God
By David Javerbaum
Lied Center's Johnny Carson Theater
Sept. 26-Oct. 14
Mother Courage
Nov 7-18, 2018
Temple Building
The Holiday Cabaret
Conceived and directed by Andy Park
Temple Building
Dec. 13-16
Hair
Book and Lyrics by Gerome Ragni and James Rado
Music by Galt MacDermot
Lied Center's Johnny Carson Theater
March 27-April 7, 2019
Spirit of '68: Rep's 50th Anniversary Party
Temple Building
Saturday, April 20, 2019
Celebrate the Rep's 50th year at this special celebration featuring hors d'oeuvres, drinks and a spectacle with live music, large-scale puppetry and stilt dancing.