Lied Center Announces Full 2021-2022 Season!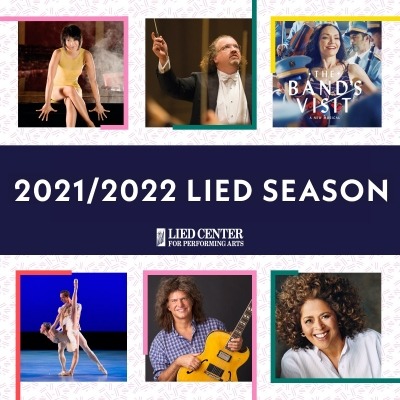 Lied Center Announces Full 2021-2022 Season!
Highlights include the Boston Pops, Manheim Steamroller Christmas, the St. Louis Symphony, Anna Deavere Smith, The Righteous Brothers, Pat Metheny, Stars of American Ballet, and more!
(LINCOLN, NE – June 27, 2021) Intermission is over at the Lied Center! In a return to full audiences enjoying the greatest artists in the world, the 2021-2022 season at the Lied will include a vibrant lineup of spectacular music, theater, dance, and more. From the Boston Pops showcasing the iconic music of John Williams to Manheim Steamroller and their beloved Christmas music, from the Stars of American Ballet to the mind-bending artistry of Pilobolus Dance, from the St. Louis Symphony to piano superstar Yuja Wang, from The Righteous Brothers to the hilarious 'A Musical About Star Wars' and so much more, this season has something for everyone!
Lied Center Executive Director Bill Stephan says, "I'm overwhelmed by how exciting it is to have big Broadway back, the world's greatest orchestras, and all of our patrons in the theater together. I know that everyone can't wait to be entertained, inspired, and full of joy after the challenges of the last year year. We have put together the Lied Center's biggest season of Broadway in our history with a record ten Broadway attractions, and there really is something for everyone with more than 30 different programs in music, theater, and dance. The 2021-2022 season is a celebration of life and community."
These season events will be presented in addition to the previously announced Glenn Korff Broadway Series. With nine Broadway shows plus a one-night-only concert with Broadway legend Bernadette Peters, 2021-2022 is the biggest Broadway season in Lied Center history! For more information or to become a subscriber, visit liedcenter.org
TICKET INFORMATION
Season subscription sales begin on June 30 at 11 a.m., and tickets can be purchased in person at the Lied Center Box Office (12th & R Streets), by phone at (402) 472-4747, or online at liedcenter.org. To become a season subscriber, patrons can choose any four events and receive 10% off their entire order. Creating a season subscription of eight or more events increases the discount to 20%. UNL students can place season ticket orders and receive a 10% or 20% discount, in addition to the 50% discount all current UNL students receive on Lied Center tickets.
If the performances are not sold out through season ticket orders, any remaining tickets will be available for single ticket purchase starting in early August.
Lied Center 2021-2022 Season Events: 
Jimmy Buffett's Escape to Margaritaville
September 10-12, 2021 | 4 Shows
Welcome to Margaritaville, where people come to get away from it all—and stay to find something they never expected. Escape to Margaritaville is the musical comedy featuring both original songs and your most-loved Jimmy Buffett classics, including "Fins," "Volcano," "Cheeseburger in Paradise," and many more. USA Today calls it "A little slice of paradise!" and Entertainment Weekly raves, "It will knock your flip-flops off!"
 
STEP AFRIKA! Drumfolk
September 17, 2021 | 7:30pm
STEP AFRIKA! combines dance, song, storytelling, and humor to create a heart-pounding experience and celebrate the African American tradition of stepping. They are known for their lightning-fast footwork, percussive chants, and incredible synchronicity. Included in the show will be a feature from their new work, Drumfolk, that highlights the heritage of step and its cultural history.
"The sheer passion and commitment the company has toward their craft demonstrates why the company has stood the test of time." - Maryland Theatre Guide
A Musical About Star Wars
September 24, 2021 | 7:30pm
A long time ago, in a galaxy far, far away… A Staten Island Blockbuster Video to be exact…
Two Star Wars fanatics, Scott and Taylor, write the most epic Star Wars music ever! On their endless quest to perform it at Comic-Con - a restraining order, that we won't mention, stands in their way - they discover dark forces are looming over their production, and her name is Emily.
"A wonderful off-Broadway sensation!" - BroadwayWorld
Pat Metheny Side Eye with James Francies & Joe Dyson
October 11, 2021 | 7:30pm
Twenty-time GRAMMY Award-winner Pat Metheny is one of the most accomplished jazz artists in history. Throughout his legendary career, Metheny has performed with artists as diverse as Herbie Hancock, David Bowie, and Steve Reich while always sidestepping the limits of any one genre. Don't miss Metheny's Lied Center debut!
"Running throughout, uniting everything, is the light, windswept lyricism that has always propelled Metheny's music." - NPR
Arnaldo Cohen
October 20, 2021 | 7:30pm
Brazilian-born pianist Arnaldo Cohen has long had a reputation for astonishing audiences with his musical authority and blistering virtuosity. Cohen returns to the Lied to celebrate the music of composer Franz Liszt after an unforgettable performance in our 2013-2014 season!
"Technically flawless…a model of balance and imagination." -The New York Times
The Righteous Brothers
October 23, 2021 | 7:30pm
This Rock and Roll Hall of Fame duo topped the charts for decades with #1 hits including the most played song in radio history, "You've Lost That Lovin' Feelin'." The concert experience features favorites including "Soul & Inspiration," "Unchained Melody," "Rock and Roll Heaven," the GRAMMY Award-winning Dirty Dancing theme "The Time of My Life" and more!
"They still generate the vocal excitement that made them a sensation a quarter-century ago." – Los Angeles Times
Boston Pops on Tour
October 28, 2021 | 7:30pm
The Boston Pops is not only America's orchestra; it was John Williams' orchestra before he passed the baton to Keith Lockhart. Conductor Keith Lockhart and the entire orchestra mark their return to the Lied Center with a program featuring the symphonic splendor of John Williams' iconic music. Hop in your Millennium Falcon to celebrate 60 years of movie music magic!
"...The best-known, most recorded and arguably most popular orchestra in the United States." –The New York Times
BeauSoleil avec Michael Doucet- Au Revoir Tour
November 4, 2021 | 7:30pm
BeauSoleil's distinctive sound derived from the distilled spirits of New Orleans jazz, blues rock, folk, swamp pop, Zydeco, and bluegrass has captivated listeners from the Jazz and Heritage Festival in New Orleans to Carnegie Hall. From appearances at the Super Bowl and HBO's hit show Treme to capturing multiple GRAMMY Awards, BeauSoleil's farewell tour One Last Time – Au Revoir! celebrates the most potent and popular Cajun music on the planet.
Yuja Wang, Piano and Leonidas Kavakos, Violin in Concert
November 8, 2021 | 7:30pm
A pair of classical music superstars share the Lied Center stage in Yuja Wang's return to Lincoln. Violinist Leonidas Kavakos's playing has been praised by The New York Times for his "balance of pyrotechnics and lyricism," while Yuja Wang has been called "quite simply the most dazzlingly, uncannily gifted pianist in the concert world today" by the San Francisco Chronicle. Together "they sound like a single organism" (Financial Times) and are certain to leave you breathless with the beauty and intensity of their performance.
Manheim Steamroller Christmas, by Chip Davis
December 21, 2021 | 7:30pm
Do you remember the first time you heard the Christmas sounds of Mannheim Steamroller?  You can again celebrate the holiday magic of Mannheim Steamroller in 2021 when they bring their annual holiday tour to fans throughout the country, reuniting the #1 Christmas music artist in history with its legion of long-time fans. Experience the music that has become the hallmark of the holidays and a tradition for generations of families!
"Embrace the Christmas miracle that is Mannheim Steamroller." – The New Yorker
St. Louis Symphony Orchestra
January 13, 2022 | 7:30pm
Continuing the Lied Center's partnership with the St. Louis Symphony Orchestra, Music Director Stéphane Denève returns to Lincoln to lead a program highlighted by Prokofiev's Romeo and Juliet Suite! GRAMMY Award-winning violin virtuoso Augustin Hadelich also joins the orchestra to perform Barber's Violin Concerto for one of this season's must-see concerts!
Berlin Philharmonic Piano Quartet
January 18, 2022 | 7:30pm
Established as a chamber music ensemble of the world-renowned Berlin Philharmonic in 1985, this incredible group returns to Lincoln after making their Lied Center debut in 2018. Their program includes the Strauss Piano Quartet as well as a newly revised edition of Danny Elfman's Piano Quartet which was co-commissioned by the Lied Center.
"A triumph of spirited, razor-sharp ensemble playing." - Financial Time
Charlie and the Chocolate Factory
January 27-29, 2022 | 4 Shows
Roald Dahl's amazing tale is now Lincoln's golden ticket! It's the perfect recipe for a delectable treat: songs from the original film, including "Pure Imagination," "The Candy Man," and "I've Got a Golden Ticket," alongside a toe-tapping and ear-tickling new score from the songwriters of Hairspray. Get ready for Oompa-Loompas, incredible inventions, the great glass elevator, and more, more, more at this everlasting showstopper!
"Spectacular! Brings pure imagination to life!" -ABC
 
Anna Deavere Smith, Notes from the Field
February 9, 2022 | 7:30pm
One of the most hailed and provocative theatre and television artists of our time, Anna Deavere Smith (The West Wing, Black-ish, Nurse Jackie), leads a new installation of powerful first-person storytelling in her new production:  Notes from the Field. Drawn from interviews with more than 250 people living and working within a challenged system, Notes from the Field depicts the personal accounts of students, parents, teachers, and administrators caught in America's school-to-prison pipeline.
"Absorbing and wonderfully energizing. Anna Deavere Smith is invaluable." – The New York Times
Beautiful- The Carole King Musical
February 18-20, 2022 | 4 Shows
Beautiful – The Carole King Musical tells the inspiring true story of King's remarkable rise to stardom, from being part of a hit songwriting team with her husband Gerry Goffin, to her relationship with fellow writers and best friends Cynthia Weil and Barry Mann, to becoming one of the most successful solo acts in popular music history. Along the way, she made more than beautiful music, she wrote the soundtrack to a generation.
 "A triumph!" — Los Angeles Times
 
IBEX Puppetry: Ajijaak on Turtle Island
February 22, 2022 | 7:30pm
Experience the journey of Ajijaak, a young whooping crane, in this majestic production brought to life through puppetry, dance, and visual projections. Ajijaak's story puts forward visions from Indigenous communities, celebrating the symbiotic relationship between cranes and Native American/Indigenous peoples while inspiring the next generation of storytellers and change-makers.
"Deer, buffalo, and coyote came to life on stage, as cranes and butterflies soared overhead" – Lincoln Journal Star
Bernadette Peters
February 26, 2022 | 7:30pm
One of Broadway's most critically acclaimed performers, Bernadette Peters has garnered numerous accolades including three Tony Awards®, a Golden Globe, two Emmy nominations, and four GRAMMY Award nominations. Following recent starring roles in Hello, Dolly! on Broadway and TV credits including "Mozart in the Jungle" and "Zoey's Extraordinary Playlist," experience Peters' first return to the Lied Center stage in nearly a decade performing hits from her legendary career!
Stars of American Ballet
March 5, 2022 | 7:30pm
Praised by The Boston Globe as "An unapologetic showcase of virtuosity," Stars of American Ballet brings together today's most remarkable ballet talents. Led by Daniel Ulbricht, "one of the best male ballet dancers in New York," (Dance Magazine) and featuring a cast of principal and soloist dancers from the New York City Ballet and other renowned companies, this collective makes its Lied Center debut celebrating a glorious evening of ballet masterpieces.
Riverdance
March 8-10, 2022 | 3 Shows
Riverdance, as you've never seen it before! Experience a powerful and stirring reinvention of this beloved favorite, celebrated the world over for its GRAMMY Award-winning score and the thrilling energy and passion of its Irish and international dance. Immerse yourself in the extraordinary power and grace of its music and dance–beloved by fans of all ages. Fall in love with the magic of Riverdance all over again.
The Fab Four
March 12, 2022 | 7:30pm
From appearances at the Hollywood Bowl to their Emmy Award-winning PBS broadcast, The Fab Four have been lauded as the best Beatles tribute ever. After a sold-out Lied performance in 2015, experience The Fab Four's return to Lincoln with note-for-note performances of "Yesterday," "Here Comes the Sun," and "Hey Jude" live in concert.
"The best Beatles show in the world." – Los Angeles Times
This Mortal Life Also
March 17-20, 2022 | 4 Shows
Johnny Carson Theater
Produced by Angels Theatre Company, this new production is based on a true story. Renowned theologian and pacifist Dietrich Bonhoeffer is drawn into a web of lies and deceit as a double agent in World War II Germany. His efforts to maintain his integrity while fighting against National Socialism create a landscape of secrets, broken promises, fierce love, and dangerous alliances.
Ukulele Orchestra of Great Britain
March 18, 2022 | 7:30pm
The world-renowned ukulele superstars return to the Lied with their toe-tapping music, hilarious banter, and sheer superlative entertainment. With fans ranging from the Queen of England to David Bowie and beyond, they are masters of the unexpected, known for reimagining folk songs, twisting classical favorites, and uncovering quirky versions of rock covers.
"They extract more than seems humanly possible from so small and so modest an instrument." - The New York Times
Jersey Boys
March 25-27, 2022 | 4 Shows
They were just four guys from Jersey, until they sang their very first note. They had a sound nobody had ever heard… and the radio just couldn't get enough of. Go behind the music and inside the story of Frankie Valli and The Four Seasons in the Tony and GRAMMY Award-winning true-life musical phenomenon, Jersey Boys. From the streets of New Jersey to the Rock and Roll Hall of Fame, this is the musical that's just too good to be true. FEATURING THE LEGENDARY TOP TEN HITS: "Sherry" • "Big Girls Don't Cry" • "Walk Like A Man" • "Can't Take My Eyes Off You" • "December, 1963 (Oh What A Night)"
Mnozil Brass
March 26, 2022 | 7:30pm
Kimball Recital Hall
One of the top brass ensembles in the world makes its Nebraska debut with a program that highlights the most popular works of its illustrious 25-year career. Known as "the Monty Python of the music world," this Austrian brass septet seamlessly combines laugh-out-loud slapstick comedy with virtuosic musical ability.
"The group provokes new ways of thinking about how theatrical action and music can be linked in performance." - The Arts Fuse
Pilobolus BIG FIVE-OH
March 31, 2022 | 7:30pm
For five decades, the athletic, nimble, zany, seemingly superhuman dancers and acrobats of Pilobolus have entranced audiences with their irresistible mix of wit, sensuality, and stunning physical acumen. Contorting, bending, and partnering to transform themselves into incredible shapes and images, the Pilobolus dancers tell stories through the astounding strength and precision of their bodies, enhanced by magical stage effects.
"A new and beautiful kind of motion." – The New York Times
Madagascar the Musical
April 2, 2022 | 2 Shows
Join Alex, Marty, Melman, and Gloria as they bound out of the zoo and onto the stage in this live musical spectacular. This smash hit musical features all of your favorite crack-a-lackin' friends as they escape from their home in New York's Central Park Zoo and find themselves on an unexpected journey to the madcap world of King Julien's Madagascar. This brand-new musical from DreamWorks (Shrek The Musical) will leave audiences with no choice but to "Move It, Move It!"!
"Crack-a-lackin fun for the family." - Chicago Theatre Review
Diane Schuur
April 5, 2022 | 7:30pm
Regarded as one of contemporary jazz's leading vocalists, Diane Schuur is as eclectic as she is brilliant. Schuur was blind from birth but gifted with perfect pitch and three-and-a-half-octave vocal range. With a recording career that spans over three decades and includes two GRAMMY Awards, Schuur's music has explored almost every corner of the American musical landscape.
"Her voice is impressive in its size, range and brightness. A song can suddenly fly up an octave into little-girl squeals, then make a swan dive into the murky depths." -The New York Times
The Band's Visit
April 9-10, 2022 | 4 Shows
The critically acclaimed smash-hit Broadway musical The Band's Visit is the winner of 10 Tony Awards®, including Best Musical, making it one of the most Tony-winning musicals in history.  It is also a GRAMMY Award winner for Best Musical Theater Album. With a score that seduces your soul and sweeps you off your feet, and featuring thrillingly talented onstage musicians, The Band's Visit rejoices in the way music makes us laugh, makes us cry, and ultimately, brings us together.
"The uncanny virtuosity of Mr. Yazbek's score feels as essential as oxygen!" – The New York Times
 
Church Basement Ladies
April 16, 2022 | 2 Shows
The Church Basement Ladies celebrate their return to the Lied Center with the hit show that started it all. From preparations for a record-breaking Christmas dinner to the funeral of a dear friend, a Hawaiian Easter Fundraiser, and a steaming hot July wedding, the ladies stave off potential disasters, share and debate recipes, instruct the young, and keep the pastor on due course in this hilarious production.
"…winning music and wickedly funny" - Minneapolis Star Tribune
Joyce Yang, Piano
April 18, 2022 | 7:30pm
Blessed with "poetic and sensitive pianism" (Washington Post) and a "wondrous sense of color" (San Francisco Classical Voice), GRAMMY-nominated pianist Joyce Yang captivates audiences with her virtuosity, lyricism, and interpretive sensitivity. She first came to international attention in 2005 when she won the silver medal at the 12th Van Cliburn International Piano Competition. Experience Yang's first Lied Center performance since her memorable 2008 collaboration with the Takács Quartet.
Come From Away
April 27-May 1, 2022 | 7 Shows
This New York Times Critics' Pick takes you into the heart of the remarkable true story of 7,000 stranded passengers and the small town in Newfoundland that welcomed them. Cultures clashed and nerves ran high, but uneasiness turned into trust, music soared into the night, and gratitude grew into enduring friendships. Newsweek cheers, "It takes you to a place you never want to leave!"
On 9/11, the world stopped. On 9/12, their stories moved us all.
"A celebration of the best of humankind, and an uplifting piece of art for our times." - Daily Beast
Oklahoma!
May 10-11, 2022 | 2 Shows
"How is it that the coolest new show on Broadway is a 1943 musical?" says The New York Times.
This is OKLAHOMA! as you've never seen or heard it before—reimagined for the 21st century, and now the Tony Award® Winner for Best Revival of a Musical. Funny and sexy, dark and jolting, "this production shocked me and moved me" (New York Magazine). Direct from an acclaimed run on Broadway, OKLAHOMA! "lets us experience Rodgers and Hammerstein's greatness anew." (The New Yorker).
Note: This production of Oklahoma! Is recommended for ages 12+.
Michael Feinstein
June 17, 2022 | 7:30 p.m.
Michael Feinstein, the multi-platinum-selling, five-time GRAMMY-nominated entertainer dubbed "The Ambassador of the Great American Songbook," is one of the premier interpreters of American standards. His 200+ shows a year have included performances at Carnegie Hall and the Hollywood Bowl, as well as the White House and Buckingham Palace.
"…a memorable evening of great music sung by a star performer." – BroadwayWorld