Lied Center Announces Spectacular 23-24 Season!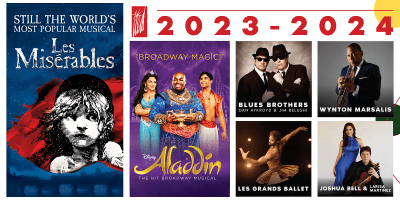 Lied Center Announces Spectacular 23-24 Season!
The Lied Center's 2023-2024 season will feature more than 30 events including top artists and ensembles from around the world in dance, classical music, jazz, musical theater, comedy, family, illusion, and more. 
Lied Center Executive Director Bill Stephan says, "Featuring exceptional evenings of music, theater, dance, comedy, illusion, and much more, the thrilling 2023-2024 season truly fulfils our promise of 'something for everyone!' From opening night with The Blues Brothers to the return of Lied audience favorites including Wynton Marsalis and Joshua Bell, the Nebraska premieres of Coco in Concert and MOMIX's Alice in Wonderland, as well as additional just-announced Broadway show To Kill A Mockingbird and much more, it's going to be a spectacular one!"
Create Your Own Season packages are on sale now at liedcenter.org, by phone at (402) 472-4747, and in-person at the Lied Center box office. To become a subscriber, patrons can select any four or more shows in the season and receive a discount of up to 20% off the entire order.
THE 2023-2024 LIED CENTER SEASON
The Blues Brothers
Jim Belushi & Dan Aykroyd
September 22, 2023 at 7:30pm
Featuring Dan Aykroyd and Jim Belushi as Elwood and Zee, these two have been charming audiences and pulling people out of their chairs for years playing all the hits from the official Blues Brothers canon and putting their inimitable twist on classic tunes. Be part of the Lied Center's Season Opening Night at this once-in-a-lifetime concert!
Emanuel Ax
September 24, 2023 at 4:00pm
A Lied Center audience favorite, seven-time GRAMMY® Award-winning pianist Emanuel Ax returns to Nebraska. One of the world's most virtuosic pianists, Ax gives performances that have been called "poetic and full of illuminating touches" by The New York Times. A highly sought soloist and partner throughout the world, Ax can be seen performing regularly with the world's finest orchestras, as well as working on special projects with classical music giants Yo-Yo Ma and Itzhak Perlman.
Disney's Aladdin
October 3-8, 2023
8 performances!
From the producer of The Lion King comes the timeless story of ALADDIN, a thrilling new production filled with unforgettable beauty, magic, comedy and breathtaking spectacle. It's an extraordinary theatrical event where one lamp and three wishes make the possibilities infinite. Hailed by USA Today as "Pure Genie-Us," ALADDIN features all your favorite songs from the film as well as new music written by Tony® and Academy Award® winner Alan Menken (Newsies) with lyrics penned by the legendary Howard Ashman (Beauty and the Beast), Tony Award winner Tim Rice (The Lion King, Aida), and book writer Chad Beguelin (The Wedding Singer). See why audiences and critics agree, ALADDIN is "Exactly What You Wish For!" (NBC-TV)
Jake Shimabukuro
October 12, 2023 at 7:30pm
Often referred to as the "Jimi Hendrix of the ukulele," Jake Shimabukuro puts his inspired touch on everything from island standards to popular tunes and classical symphonic concertos. Elevating the ukulele from a beloved Hawaiian folk instrument to a world-class vehicle, he fearlessly traverses musical boundaries and has collaborated with artists from Bette Midler and Yo-Yo Ma to Ziggy Marley and Chris Botti.
Jazz at Lincoln Center Orchestra with Wynton Marsalis
October 18, 2023 at 7:30pm
A nine-time GRAMMY® winner and the first jazz musician to win the Pulitzer Prize, Wynton Marsalis has led the 15-piece Jazz at Lincoln Center Orchestra since 1988. The group simultaneously honors the rich heritage of Duke Ellington and Louis Armstrong while presenting a stunning variety of new works and fresh arrangements.
Tom Papa
October 26, 2023 at 7:30pm
Tom Papa is one of the top comedic voices in the country and can be seen on his Netflix stand-up specials: What a Day, You're Doing Great! and Tom Papa Live in New York City, among others. He is a regular guest on The Joe Rogan Experience podcast, a panelist on NPR's Wait Wait...Don't Tell Me!, and appeared multiple times on "The Tonight Show with Jay Leno" and "Late Show with David Letterman." You'll laugh like you haven't laughed in a long, long time.
Super Diamond
October 27, 2023 at 7:30pm
In tribute to the much loved, international pop icon Neil Diamond, Super Diamond performs the timeless classics including "Sweet Caroline," "America," "Cherry Cherry," "Forever in Blue Jeans" and all your favorite hits. Back by popular demand - Super Diamond's success in America is unprecedented for a tribute band. With a nod from Neil (the man himself), Super Diamond is the most celebrated Neil Diamond tribute artist in the world.
Spiderman Into the Spiderverse: Live in Concert
October 29, 2023 at 4:00pm
Featuring a soundtrack that blends symphonic orchestral music with hip-hop, Spider-Man: Into The Spider-Verse Live in Concert pairs a screening of the Academy Award®-winning animated film with live musicians and turntables featuring a DJ scratcher live on stage. Emmy® winner Daniel Pemberton composed a sprawling score of boundary-pushing original music that is complemented with song contributions by Post Malone, Lil Wayne, Jaden Smith, and Nicki Minaj. The hip-hop-based score results in a sonic universe that is woven throughout the fabric of the film, supporting its themes of resilience and universal heroism.
Coco Live-to-Film Concert
Score Performed Live by Orquesta Folclorica Nacional De Mexico
November 1, 2023 at 7:00pm
Celebrate Día de los Muertos at the Lied Center with Disney Pixar's Coco in Concert on Tour featuring a screening of the complete film with Oscar®- and GRAMMY® -winning composer Michael Giacchino's musical score performed live by a 20-member Latin ensemble. Despite his family's baffling generations-old ban on music, Miguel dreams of becoming an accomplished musician like his idol, Ernesto de la Cruz. Desperate to prove his talent, Miguel finds himself in the stunning and colorful Land of the Dead following a mysterious chain of events. Along the way, he meets charming trickster Héctor, and together, they set off on an extraordinary journey to unlock the real story behind Miguel's family history.
Metro Jazz Quintet
November 3, 2023, February 23, 2024, and April 19, 2023
Lied Commons
Experience jazz "club style" with the Metro Jazz CARSON THEATRE Quintet in the intimate setting of the Lied Commons. This new quintet includes many of the finest jazz musicians in Nebraska performing a wide variety of your favorite legendary jazz composers. The Lied Commons club scene will feature table and theater seating, a candlelight atmosphere, and cocktails available for purchase throughout the evening.
Not Too Far Distant
A New Play by Becky Boesen
November 7-8, 2023
2 Performances!
Carson Theater
"IT'S ALMOST UNBELIEVABLE THAT ANYONE COULD BE HARDENED TO THE POINT OF DOING THE BRUTAL THINGS THEY DID..." A young man from the Midwest is sent to war, carrying with him the hopes of the free world. What Staff Sergeant Clarence Williams encounters there challenges and changes humanity forever. History touches the present when a new generation takes a journey through time to experience World War II alongside Clarence himself. Centered around his personal letters home, we learn that sometimes what seems so far away is much closer than we think. Filled with hope and heart, Not Too Far Distant honors the experience of the American soldier and reminds us that we all have the power - and the responsibility - to help create a brighter future.
Behzod Abduraimov
December 5, 2023 at 7:30pm
Introduced to Lied audiences in 2018 as a soloist with Russia's Mariinsky Orchestra, Behzod Abduraimov has quickly established himself as a rising classical music star. Described as displaying "prodigious technique and rhapsodic flair" by The New York Times, Abduraimov returns to Nebraska after a virtuosic 2021 Lied Center performance praised by the Lincoln Journal Star as "perfectly nuanced...brilliant, dynamic."
Mannheim Steamroller by Chip Davis
December 21, 2023 at 7:30pm
THE ULTIMATE HOLIDAY TRADITION! Mannheim Steamroller Christmas by Chip Davis has been America's favorite holiday tradition for over 35 years! GRAMMY® Award-winner Chip Davis has created a show that features Mannheim Steamroller Christmas classics in the distinctive Mannheim sound. The program celebrates the group's recent anniversary of 35 years since the first Christmas album and includes dazzling multimedia effects. Experience the magic as the spirit of the season comes alive with the signature sound of Mannheim Steamroller.
Les Misérables
January 9-14, 2024
8 Performances!
CAMERON MACKINTOSH PRESENTS THE ACCLAIMED PRODUCTION OF ALAIN BOUBLIL AND CLAUDE-MICHEL SCHÖNBERG'S TONY AWARD-WINNING MUSICAL PHENOMENON, LES MISÉRABLES. This brilliant staging has taken the world by storm and has been hailed as "Les Mis for the 21st Century" (Huffington Post), "a reborn dream of a production" (Daily Telegraph) and "one of the greatest musicals ever created" (Chicago Tribune). Set against the backdrop of 19th century France, Les Misérables tells an enthralling story of broken dreams and unrequited love, passion, sacrifice and redemption – a timeless testament to the survival of the human spirit. This epic and uplifting story has become one of the most celebrated musicals in theatrical history. The magnificent score of Les Misérables includes the songs "I Dreamed a Dream," "On My Own," "Bring Him Home," "One Day More," "Master of the House" and many more. Seen by over 130 million people worldwide in 53 countries and 22 languages, Les Misérables is undisputedly one of the world's most popular musicals.
Kinetic Light: Descent
January 27, 2024 at 7:30pm
Inspired by the sensual writings and art of French sculptor Auguste Rodin, DESCENT gives the mythological characters of Venus and Andromeda new life as interracial lovers. The sensuality of this work is palpable, and risk is interwoven throughout as wheelchair wheels fly precariously at the edge of the ramp. Performed on a custom-designed architectural ramp installation with hills, curves, and peaks, DESCENT explores the pleasures of wheeled movement and reckless abandon. Combining dance, architecture, design, and technology, this evening-length work challenges cultural assumptions of what disability, dance, and beauty can be. Voted as 2018's most moving performance by the readers of Dance Magazine, DESCENT is "An ingenious set of ramps [that] serves as a canvas for projections of stars and seas, and as a surface for wheelchair motion with the gliding grace of ice dance," according to The New Yorker.
Jesus Christ Superstar
February 1-4, 2024
5 Performances!
Originally staged by London's Regent's Park Open Air Theatre and helmed by the acclaimed director Timothy Sheader (Crazy for You, Into the Woods) and cutting-edge choreographer Drew McOnie (King Kong, Strictly Ballroom), this production won the 2017 Olivier Award for Best Musical Revival garnering unprecedented reviews and accolades. Appealing to both theater audiences and concert music fans, this production pays tribute to the historic 1971 Billboard Album of the Year while creating a modern, theatrical world that is uniquely fresh and inspiring. With lyrics and music by Emmy, Grammy, Oscar and Tony winners Tim Rice and Andrew Lloyd Webber, Jesus Christ Superstar is set against the backdrop of an extraordinary series of events during the final weeks in the life of Jesus Christ as seen through the eyes of Judas. Reflecting the rock roots that defined a generation, the legendary score includes 'I Don't Know How to Love Him', 'Gethsemane' and 'Superstar'.
Les Grands Ballets Canadiens: Dancing Beethoven
February 14, 2023 at 7:30pm
It is on the timeless notes of two famous symphonies that Canada's virtuosic Les Grands Ballets returns to the Nebraska for the first time since the Lied's opening season performing Dancing Beethoven. Lincoln's Symphony Orchestra brings Beethoven's iconic 5th and 7th symphonies to life accompanying over 50 dancers. Recognized as one of Canada's official cultural ambassadors, this once-in-a-lifetime collaboration is a must-see Lied performance!
The Rainbow Fish
February 20, 2023 at 7:00pm
"THE SPARKLING STORY THAT BECAME AN INTERNATIONAL PHENOMENON!" Mermaid Theatre of Nova Scotia's creative, visually striking production of The Rainbow Fish brings the pages of the beloved storybook to life on stage with innovative puppetry, striking scenic effects, and evocative original music. The Rainbow Fish will enchant even the youngest child with his silver scales and heart of gold in this award-winning adaptation about the beautiful fish who learned to share his most prized possession.
Shrek The Musical
February 29-March 3, 2024
5 Performances!
"ONCE UPON A TIME, THERE WAS A LITTLE OGRE NAMED SHREK...." And thus begins the tale of an unlikely hero who finds himself on a life-changing journey alongside a wisecracking Donkey and a feisty princess who resists her rescue. Yes, your favorite ogre is back in the hilarious stage spectacle based on the Oscar®-winning, smash hit, DreamWorks animated film. This Tony Award®-winning fairy tale musical adventure features songs from Jeanine Tesori (Kimberly Akimbo; Caroline, or Change), a sidesplitting book by Pulitzer Prize winner David Lindsay-Abaire (Kimberly Akimbo) and brings all the beloved characters you know from the film to life. USA Today raves, "Altogether irresistible!" You'll be a "believer" too as there's more to the story that meets the ears.
Drum Tao
March 7, 2024 at 7:30pm
A feast for the eyes and ears, Drum Tao's mesmerizing productions combine thunderous traditional taiko drumming with dazzling staging, theatrical costumes, and dramatic lighting effects. The international troupe of 40 performers has seemingly done it all, having collaborated with the Bolshoi Ballet, staged sold-out productions off-Broadway, appeared on The Late Show with Stephen Colbert and at the Olympics, and even recorded for Universal Music. Flute, marimba, and harp are added to the drum ensemble for dramatic effects, and high-octane choreography contributes fresh new energy to this centuries-old Japanese art form.
Trinity: Classically Irish
With Special Guest Mairead Carlin
March 14, 2024 at 7:30pm
Straight from its brand-new hit PBS special, Trinity: Classically Irish is the next big thing in Irish music from the creator and producer of the Irish Tenors. Three accomplished young singers with performance experience including Celtic Thunder, Riverdance, and stages around the world, perform fresh arrangements of beloved music. Joined by special guest Mairead Carlin from Celtic Woman, songs include "Red Is the Rose," "Danny Boy," "The Parting Glass," "The Rocky Road to Dublin," and more. AN UNFORGETTABLE EVENING OF IRISH MUSIC!
The Magic of Rob Lake
March 16, 2024 at 7:30pm
One of the world's most celebrated illusionists, Rob Lake produces mind-blowing illusions that dazzle and entertain millions. Lake is internationally renowned for his mesmerizing and award-winning illusion spectacular and was named "World's Greatest Illusionist" by NBC and the "top illusionist in the world" by Caesars Entertainment.
Neil Berg's 100 Years of Broadway
March 23, 2024 at 7:30pm
Direct from New York, five of Broadway's top stars perform the hit songs and classic dances from groundbreaking shows like West Side Story, Jersey Boys, and Chicago to current blockbusters like Moulin Rouge and Wicked. Accompanied by a live band, 100 Years of Broadway recreates the greatest moments from the finest shows of the century featuring the actual Broadway stars of shows such as The Phantom of the Opera, Les Misérables, CATS, and Jesus Christ Superstar.
Show Way: The Musical
March 26, 2024 at 7:30pm
Soonie's great-grandma was just seven years old when she was sold to a big plantation without her ma and pa, with only some fabric and needles to call her own. She began to stitch a Show Way, a quilt with secret meanings to show enslaved people the way to freedom. As each generation passes, the Show Way shines a light on the past and paves a road to the future, stitching together possibility and promise.
MOMIX: Alice
March 30, 2024 at 7:30pm
Travel down the rabbit hole MOMIX-style with Moses Pendleton's newest creation, ALICE, inspired by Alice in Wonderland. As Alice's body grows, shrinks, and grows again, MOMIX dancers extend themselves by means of props, ropes, and other dancers. Take a journey that is magical, mysterious, fun, eccentric, and much more. As Alice experiences every kind of transformation, so will you. "I don't intend to retell the whole Alice story" Pendleton says, "but to use it as a taking off point for invention."
The Cher Show
April 2-3, 2024
2 Performances!
THE TONY AWARD®-WINNING MUSICAL! HER LIFE. HER STORY. HER LEGEND. Superstars come and go. Cher is forever. For six straight decades, only one unstoppable force has flat-out dominated popular culture — breaking down barriers, pushing boundaries, and letting nothing and no one stand in her way. THE CHER SHOW is the Tony Award-winning musical of her story, and it's packed with so much Cher that it takes three women to play her: the kid starting out, the glam pop star, and the icon. THE CHER SHOW is 35 smash hits, six decades of stardom, two rock-star husbands, a Grammy®, an Oscar®, an Emmy® and enough Tony Award-winning Bob Mackie gowns to cause a sequin shortage in New York City, all in one unabashedly fabulous new musical that will have you dancing in the aisles!
Jon Nakamatsu
April 7, 2024 at 4:00pm
Piano virtuoso Jon Nakamatsu makes his highly anticipated return to Nebraska after performing a sold-out concert with Lincoln's Symphony Orchestra to close the Lied Center's historic 25th Anniversary Season in 2015. Catapulted to international attention in 1997 as the Gold Medalist of the Van Cliburn International Piano Competition — the only American to achieve this distinction since 1981 — Nakamatsu has performed with over 150 orchestras across the globe and regularly appears at the world's top concert halls, including Carnegie Hall, Lincoln Center, and Washington, DC's Kennedy Center.
Mean Girls
April 12-14, 2024
5 Performances!
Direct from Broadway, MEAN GIRLS is the hilarious hit musical from an award-winning creative team, including book writer TINA FEY ("30 Rock), composer JEFF RICHMOND ("Unbreakable Kimmy Schmidt"), lyricist NELL BENJAMIN (Legally Blonde) and original direction & choreography by CASEY NICHOLAW (The Book of Mormon). Cady Heron may have grown up on an African savanna, but nothing prepared her for the vicious ways of her strange new home: suburban Illinois. Soon, this naïve newbie falls prey to a trio of lionized frenemies led by the charming but ruthless Regina George. But when Cady devises a plan to end Regina's reign, she learns the hard way that you can't cross a Queen Bee without getting stung. New York Magazine cheers, "MEAN GIRLS delivers with immense energy, a wicked sense of humor and joyful inside-jokery." USA Today says, "We'll let you in on a little secret, because we're such good friends: GET YOUR TICKETS NOW!"
Brian Regan
April 18, 2024 at 7:30pm
Critics, fans, and fellow comedians agree: Brian Regan is one of the most respected comedians in the country with Vanity Fair calling him "The funniest stand-up alive," and Entertainment Weekly naming him "Your favorite comedian's favorite comedian." Back by popular demand, Regan appeared over 25 times on The Late Show with David Letterman, has released eight hourlong comedy specials and is a regular guest on The Tonight Show Starring Jimmy Fallon.
Susan Werner
April 20, 2024 at 2:00pm & 7:30pm
Susan Werner returns to Lincoln after sold-out shows across the country to perform highlights from the Nebraska-commissioned Hayseed album, new music from The Birds of Florida, and many of her greatest hits. Praised by the Chicago Tribune as "one of the most innovative songwriters working today" Werner relies on trademark songcraft and wry, poetic lyrics that have established her as a Lied Center audience favorite!
The Simon & Garfunkel Story
April 23, 2024 at 7:30pm
Featuring a full live band, state-of-the-art video projection, and original film footage, this immersive theatrical concert chronicles the amazing journey shared by the folk-rock duo, Paul Simon and Art Garfunkel. Performing all the hits, including "Mrs. Robinson," "Cecilia," "Bridge Over Troubled Water," "Homeward Bound," and many more, it tells the story from their humble beginnings to their incredible success as one of the best-selling music groups of the '60s, their dramatic split in 1970 and culminates with the pair's famous "Concert in Central Park" reunion in 1981.
Joshua Bell & Larisa Martinez: Voice & The Violin
May 9, 2024 at 7:30pm
GRAMMY® Award-winning violinist Joshua Bell and renowned soprano Larisa Martinez are joined by celebrated pianist Peter Dugan for "Voice and the Violin," an evening of beloved romantic arias and modern classics, featuring music Mendelssohn, Dvorak, Puccini, Bernstein's West Side Story, and more. Don't miss this unique collaboration celebrating Bell's return to the Lied Center stage.
Harper Lee's To Kill A Mockingbird
June 11-12, 2024
2 Performances!
All rise for Academy Award® winner Aaron Sorkin's adaptation of Harper Lee's Pulitzer Prize-winning masterwork. The New York Times Critic's Pick TO KILL A MOCKINGBIRD is "the most successful American play in Broadway history" ("60 Minutes"). New York Magazine calls it "a real phenomenon. Majestic and incandescent, it's filled with breath and nuance and soul." With direction by Tony Award® winner Bartlett Sher, TO KILL A MOCKINGBIRD — "the greatest novel of all time" (Chicago Tribune) — has quickly become "one of the greatest plays in history" (NPR).
The World Famous Glenn Miller Orchestra
June 17, 2024 at 7:00pm
The most popular big band in the world brings back to the stage timeless classics like "Tuxedo Junction," "Moonlight Serenade" and "Chattanooga Choo Choo." Get "In the Mood" for an elegant evening of swing as the 17-piece orchestra dazzles and delights in their return to Lincoln!