Lied Center Announces Thrilling 2022-2023 Season Including Music, Dance, Theater, and More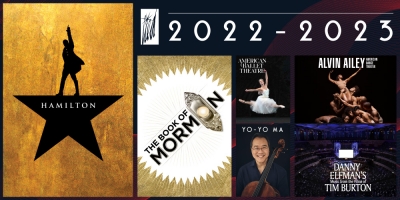 Lied Center Announces Thrilling 2022-2023 Season Including Music, Dance, Theater, and More
Highlights include Yo-Yo Ma, American Ballet Theatre, Alvin Ailey Dance Theater, Danny Elfman celebrating his collaborations with Tim Burton, the Lincoln premiere of Hamilton, and the return of The Book of Mormon
(LINCOLN, NE – May 18, 2022) The Lied Center's 2022-2023 season will feature more than 30 events including top artists and ensembles from around the world in dance, classical music, jazz, musical theater, family, illusion, and more. 
Lied Center Executive Director Bill Stephan said, "We have a thrilling season of music, theater and dance programs to look forward to in the upcoming year, all right here at Nebraska's Performing Arts Center! From the return of iconic artists from the Lied Center's 25th Anniversary Season including Yo-Yo Ma and Alvin Ailey American Dance Theater to the biggest shows currently on Broadway including Hamilton and The Book of Mormon, the 2022-2023 season at the Lied Center will be a celebration of world-class entertainment and inspiration for every member of the family.  The season culminates with the return of American Ballet Theatre's Giselle with Lincoln's Symphony Orchestra. It will be one of the greatest seasons in our history."
Create Your Own Season packages go on sale to the public at 11am on Monday, May 23 at liedcenter.org, by phone at (402) 472-4747, and in-person at the Lied Center box office. To become a subscriber, patrons can select any four or more shows in the season and receive a discount of up to 20% off the entire order.
The complete 2022-2023 Lied Center season includes:
Diana Krall
Sunday, October 2, 2022 | 7:00 p.m.
Diana Krall is a jazz legend, holding the distinction of being the only jazz singer to have eight albums debut at the top of the Billboard Jazz Albums chart. To date, her albums have garnered two GRAMMY® Awards, 10 Juno® Awards and have also earned nine gold, three platinum, and seven multiplatinum albums. Her album When I Look in Your Eyes spent an unprecedented 52 weeks at the No. 1 position on the Billboard Jazz chart, and her notable collaborations have included Tony Bennett, Barbra Streisand, and Paul McCartney. Krall's unique artistry transcends any single musical style and has made her one of the most recognizable artists of our time. 
 "A voice at once cool and sultry, wielded with a rhythmic sophistication." 
- The New York Times
Third Coast Percussion – Perspectives
Wednesday, October 5, 2022 | 7:30 p.m.
Kimball Recital Hall
Hailed by The New Yorker as "vibrant" and "superb," GRAMMY® Award-winning ensemble Third Coast Percussion explores and expands the extraordinary sonic possibilities of the percussion repertoire, delivering exciting performances for audiences of all kinds.
Their 2022 program, Perspectives, invites listeners to embark on an exciting musical adventure, featuring virtuosic repertoire written for TCP by some of today's leading music creators. Iconic film composer Danny Elfman, innovative electronic music producer Jlin, American legend Philip Glass, and groundbreaking flute/electronics duo Flutronix embody the diversity of 21st-century music making, drawing inspiration from a wide range of influences and points of view.
The Wilds
October 6-15, 2022 I 8 Shows
Carson Theater
Thursday, October 6, 2022- 7:30pm
Friday, October 7, 2022- 7:30pm
Saturday, October 8, 2022- 2:00pm
Sunday, October 9, 2022- 2:00pm
Thursday, October 13, 2022- 7:30pm
Friday, October 14, 2022- 7:30pm
Saturday, October 15, 2022- 7:30pm
Saturday, October 15, 2022- 7:30pm
Step into the world of The Wilds – a new mixed reality performance experience where movement instantly becomes music as emerging technology allows dancers to create an immersive journey of sound, light, and visual media in real time. Part mythology, part utopian vision, The Wilds fuses live dancers with motion capture technology and real-time animation inspiring a profound bond of a shared, collective experience.
Danny Elfman's Music from the Films of Tim Burton
Saturday, October 8, 2022 | 7:30 p.m.
The two-time Emmy Award-winning production of Danny Elfman's Music from the Films of Tim Burton makes a once-in-a-lifetime appearance at the Lied Center, featuring Danny Elfman live on stage joined by international soloists and Lincoln's Symphony Orchestra!
Exploring the collaborative relationship between music and storytelling and its importance in the filmmaking process, composer Danny Elfman and visionary Hollywood filmmaker Tim Burton have created a unique concert experience, lending music and visuals to celebrate the 25-year partnership of two of Hollywood's top creators. This live concert features Danny Elfman's famous Tim Burton film scores brought to life on stage by orchestra, enhanced by visuals on the big screen of original sketches, drawings, and storyboards.
Featuring music from Batman, Edward Scissorhands, The Nightmare Before Christmas, Alice in Wonderland, and more.
Winnie the Pooh
October 16-17, 2022 | 2 Shows
Sunday, October 16, 2022 – 4:00 p.m.
Monday, October 17, 2022 – 10:00 a.m.
Disney's iconic Winnie the Pooh, Christopher Robin, Piglet, Eeyore, Kanga, Roo, Rabbit, and Owl (and Tigger too!) have come to life in a beautifully crafted musical stage adaptation with stunning, life-sized puppetry. Featuring the Sherman Brothers' classic GRAMMY® Award-winning music with further songs by A.A. Milne, this new journey into the Hundred Acre Wood comes straight from its record-breaking premiere in New York.
★★★★★ - New York Theatre Guide
"A perfect introduction to live theater! The puppetry is spectacular!"
- Mommy Poppins
D.C.'s Reflecting Fools
Thursday, October 20, 2022 I 7:30pm
DC's Reflecting Fools is the new musical parody group created by the performers and co-writer from the Capitol Steps, continuing the tradition of holding up a mirror to our crazy political culture, providing hilarious song parodies and foolish reflections that continue to inspire belly-laughter. Audiences will continue to see casts from past seasons of the Capitol Steps performing all the beloved bits, the show-ending and mind-boggling backward talking spoonerisms, break-neck costume changes, over-the-top impressions, and all-new song parodies reflecting the day's news. Let's welcome some reflection! Join us for the unveiling of the next political movement in comedy sweeping the country - DC's Reflecting Fools.
Chicago
October 25-28, 2022 | 4 Shows
Tuesday, October 25, 2022 – 7:30 p.m.
Wednesday, October 26, 2022 – 7:30 p.m.
Thursday, October 27, 2022 – 2:00 p.m.
Friday, October 28, 2022 – 7:30 p.m.
After 25 years, CHICAGO is still the one musical with everything that makes Broadway shimmy-shake: a universal tale of fame, fortune, and all that jazz, with one show-stopping song after another and the most astonishing dancing you've ever seen. No wonder CHICAGO has been honored with six Tony Awards®, two Olivier Awards, a GRAMMY® Award, and thousands of standing ovations. As we celebrate our 25th anniversary — you've got to come see why the name on everyone's lips is still...CHICAGO.
Naughton Duo
Tuesday, November 1, 2022 | 7:30 p.m.
Identical twin sisters Christina and Michelle Naughton have been hailed by the San Francisco Examiner for their "stellar musicianship, technical mastery and awe-inspiring artistry." Experience the Lied Center debut of this incredible piano duo, featuring a program of works by Mendelssohn, Chopin, Brahms, and Ravel!
"The textures shimmer like pure gold in bright light, dancing in every conceivable rhythm. They have to be heard to be believed!" – Washington Post
STOMP
November 3-4, 2022 | 2 Shows
Thursday, November 3, 2022 – 7:30 p.m.
Friday, November 4, 2022 – 7:30 p.m.
STOMP is explosive, provocative, sophisticated, sexy, utterly unique and appeals to audiences of all ages. The return of the percussive hit also brings some new surprises, with some sections of the show now updated and restructured and the addition of two new, full-scale routines, utilizing props like tractor-tire inner tubes and paint cans. STOMP. See what all the noise is about.
"A sure-fire crowd-pleaser." - The New York Times
Camille A. Brown & Dancers
Thursday, November 10, 2022 | 7:30 p.m.
Heading one of the top dance ensembles in the United States, Camille A. Brown leads her dancers through excavations of ancestral stories, encouraging each dancer to embrace their unique embodiment of the artistic vision and gestural movement. Led by frequent Broadway choreographer Camille A. Brown, the company takes audiences on journeys through race, culture, and identity, blending the styles of modern, hip-hop, African, ballet, and tap to tell stories connecting history with contemporary culture.
"A tour de force"
- The New York Times
tenThing Brass Ensemble
Holiday Celebration!
Thursday, December 1, 2022 | 7:30 p.m.
Celebrating the holiday season, Norwegian brass ensemble tenThing presents a Christmas musical journey through Europe and America from the beautiful fjords of Norway through 18thcentury Germany, warm Italian Christmas, evergreen England, and the sounds of Ukrainian folk and Czech fairy tales. The program celebrates musical traditions of the Christmas season with fantastic new arrangements featuring 10 female virtuoso musicians.
Alton Brown Live: Beyond The Eats – The Holiday Variant
Thursday, December 8, 2022 | 7:30 p.m.
Alton Brown is hitting the road with a new culinary variety show Beyond The Eats – The Holiday Variant. Expect more comedy, more music, more highly unusual cooking demos, and more potentially dangerous science-y stuff. Prepare for an evening unlike any other, and if Brown calls for volunteers…think twice.
Dr. Seuss' How The Grinch Stole Christmas! The Musical
December 22-24, 2022 | 5 Shows
Thursday, December 22, 2022 – 7:00 p.m.
Friday, December 23, 2022 – 10:00 a.m.
Friday, December 23, 2022 – 2:00 p.m.
Friday, December 23, 2022 – 7:00 p.m.
Saturday, December 24, 2022 – 10:00 a.m.
Dr. Seuss' How The Grinch Stole Christmas! The Musical is the record-setting Broadway holiday sensation that features the hit songs "You're a Mean One, Mr. Grinch" and "Welcome Christmas" from the original animated special. Max the Dog narrates as the mean and scheming Grinch, whose heart is "two sizes too small," decides to steal Christmas away from the holiday-loving Whos. Magnificent sets and costumes inspired by Dr. Seuss' original illustrations help transport audiences to the whimsical world of Whoville and remind us of the true meaning of the holiday season. Don't miss what The New York Times calls "AN EXTRAORDINARY PERFORMANCE! 100 times better than any bedtime story."
Brian Stokes Mitchell
Saturday, January 21, 2023 | 7:30 p.m.
Dubbed "the last leading man" by The New York Times, two-time Tony Award® winner Brian Stokes Mitchell has enjoyed a career spanning more than 40 years in Broadway, television, film, recordings, and concert appearances with the country's finest conductors and orchestras.
Stokes received Tony®, Drama Desk, and Outer Critics Circle awards for his star turn in Kiss Me, Kate. He also gave Tony®-nominated performances in Man of La Mancha, August Wilson's King Hedley II, and Ragtime. Be part of his Lied Center premiere continuing the GK Platinum Artist legacy established by Idina Menzel, Audra McDonald, Kristin Chenoweth, and Leslie Odom Jr.
On Your Feet!
January 27-28, 2023 | 2 Shows
Friday, January 27, 2023 – 7:30 p.m.
Saturday, January 28, 2023 – 7:30 p.m.
HER VOICE. HIS VISION. THEIR STORY. ON YOUR FEET! is the inspiring true story about heart, heritage, and two people who believed in their talent—and each other—to become an international sensation: Gloria and Emilio Estefan. Now their story is an all-new, exhilarating, original musical winning the hearts of critics and audiences alike, with the Chicago Tribune declaring "IT'S A HIT!" and The New York Times cheering, "The very air in the room seems to vibrate in this undeniably crowd-pleasing musical!" ON YOUR FEET! features some of the most iconic songs of the past quarter-century, including "Rhythm Is Gonna Get You," "Conga," "Get on Your Feet," "Don't Want to Lose You Now," "1-2-3," and "Coming Out of the Dark." Prepare to be on your feet from start to finish!
Jazzmeia Horn
Tuesday, February 14, 2023 | 7:30 p.m.
Winner of the NAACP Image Award for Outstanding Jazz Album and recently voted as No. 1 Jazz Vocal Album by NPR Music's Jazz Critics Poll, Jazzmeia Horn makes her Lied Center debut in a Valentine's Day concert you won't want to miss. A three-time GRAMMY® Award nominee, Jazzmeia Horn performs songs of daring musicality and emotional power.
 "Without a doubt among the jazz world's most exciting young vocalists" - Billboard
REZA: Edge of Illusion
Saturday, February 18, 2023 | 7:30 p.m.
REZA has taken the art of illusion to a new level, delivering his rock concert-style magic show to audiences across the globe. His new production "Edge of Illusion" features the most incredible cutting-edge magic in existence today, with breathtaking, signature grand-scale illusions, including making motorcycles and helicopters materialize out of thin air, live on stage!
"World's top touring illusionist!"
- The Denver Post
 
Legally Blonde – The Musical
February 23-25, 2023 | 4 Shows
Thursday, February 23, 2023 – 7:30 p.m.
Friday, February 24, 2023 – 7:30 p.m.
Saturday, February 25, 2023 – 2:00 p.m.
Saturday, February 25, 2023 – 7:30 p.m.
OMG you guys!!! Legally Blonde – The Musical is coming to Lincoln! Fabulously fun and international award-winning Legally Blonde – The Musical is the ultimate Broadway tribute to Girl Power! The story follows the transformation of Elle Woods as she tackles stereotypes, sexism, snobbery, and scandal in pursuit of her dreams and proves that you can be legally blonde and STILL be the smartest person in the room. This contemporary, sassy musical moves at a breakneck pace driven by memorable songs and explosive dances. Legally Blonde – The Musical warms the heart by proving that self-discovery can be way too much fun and hilarious to boot. Based on the beloved movie, Legally Blonde – The Musical will take you from the sorority house to the halls of justice with Broadway's brightest new heroine and, of course, her Chihuahua, Bruiser.
Henrietta Solway
Saturday, February 25, 2023 | 2:00 & 7:30 p.m.
Johnny Carson Theater
Saturday, February 25, 2023 – 2:00 p.m.
Saturday, February 25, 2023 – 7:30 p.m.
Animal Engine Theater Company's Henrietta Solway combines the short fiction and serialized novels of Pulitzer Prize-winning author and Nebraska native Willa Cather into one epic story. A new play commissioned by the National Willa Cather Center about finding your place in the world, small towns, big cities, and restless passion, Henrietta Solway brings to life an exciting and sweet tale of ambition, sacrifice, and reconciliation.
"Cather's characters feel fresh and evocative." – National Willa Cather Center
Orpheus Chamber Orchestra with Pianist Alessio Bax
Wednesday, March 1, 2023 | 7:30 p.m.
Celebrate Chopin's birthday (March 1, 1810) with the GRAMMY® Award-winning musicians of the Orpheus Chamber Orchestra and Italian pianist Alessio Bax collaborating to perform Chopin's Piano Concerto No. 1. Praised by Gramaphone as "clearly among the most remarkable young pianists now before the public," Alessio Bax has appeared as a soloist with the world's top orchestras, including the New York, London, and Boston Symphony Orchestras; performed solo concerts at Carnegie Hall and L.A.'s Disney Hall; and toured extensively with violinist Joshua Bell.  Orpheus Chamber Orchestra is a radical experiment in musical democracy, proving for 50 years what happens when exceptional artists gather with total trust in each other and faith in the creative process. Making Carnegie Hall its home for over 35 years, Orpheus Chamber Orchestra returns to the Lied Center after its 2017 performance "wowed" Lincoln audiences.
"Orpheus Chamber Orchestra was electrifying." - The Huffington Post
R.E.S.P.E.C.T.
Friday, March 3, 2023 | 7:30 p.m.
R.E.S.P.E.C.T. is the ultimate tribute to the legendary Queen of Soul, Aretha Franklin! This elevated concert experience journeys through her courageous life of love, tragedy, and triumph with a live band and supreme vocalists guaranteed to get you out of your seat and dancing. Experience "Natural Woman," "Think," "Chain of Fools," "Respect," and more in one unforgettable evening celebrating the iconic songstress! A Motown musical odyssey with your favorite hits!
IBEX Puppetry's Ajijaak on Turtle Island: Cranes in North America
Thursday, March 9, 2023 | 7:00 p.m.
Travel with the cranes as they migrate across Turtle Island. Nebraska's favorite bird takes center stage in this larger-than-life production featuring live music, dance, and many of the finest puppets in the world. The story features Native American/Indigenous artists, music, language, and culture with puppets created by the Jim Henson Creature Shop (creator of the Muppets). This family-friendly show will inspire you with an incredibly beautiful production created in NYC with inspiration from Nebraska and the North American crane migration.
 
"Deer, buffalo and coyote came to life on stage, as cranes and butterflies soared overhead."
- Lincoln Journal Star
TRINITY: Classically Irish
Friday, March 17, 2023 | 7:30 p.m.
Straight from its brand-new hit PBS special, Trinity: Classically Irish is the next big thing in Irish music from the creator and producer of the Irish Tenors. Three accomplished young singers with performance experience, including Celtic Thunder, Riverdance, Celtic Woman, and stages around the world, perform fresh arrangements of beloved music. Songs include "Red Is the Rose," "Danny Boy," "The Parting Glass," "The Rocky Road to Dublin," and more. An unforgettable evening of Irish music!
Alvin Ailey American Dance Theater
Tuesday, March 21, 2023 | 7:30 p.m.
Electrifying. Joyful. Powerful. Gorgeous. Be inspired by Ailey's incomparable dancers as they bring you the pulse-racing thrill of contemporary favorites and the spirit-lifting joy of such classics as Alvin Ailey's masterpiece, Revelations. Alvin Ailey American Dance Theater continues to confirm what dance lovers have long known—that in terms of unparalleled artistry, athletic strength, and boundless passion, nothing beats Ailey.
"Watching Alvin Ailey American Dance Theater can change your life. If that sounds like a slogan, it's truth in advertising."­ - The New York Times
The Book of Mormon
March 24-26, 2023 | 5 Shows
Friday, March 24, 2023 – 7:30 p.m.
Saturday, March 25, 2023 – 2:00 p.m.
Saturday, March 25, 2023 – 7:30 p.m.
Sunday, March 26, 2023 – 1:30 p.m.
Sunday, March 26, 2023 – 7:00 p.m.
The New York Times calls it "the best musical of this century." The Washington Post says, "It is the kind of evening that restores your faith in musicals," and Entertainment Weekly says, "Grade A: the funniest musical of all time." Jimmy Fallon of "The Tonight Show" calls it "Genius. Brilliant. Phenomenal." It's THE BOOK OF MORMON, the nine-time Tony Award®-winning Best Musical. With standing-room-only productions in London, on Broadway, and across North America, THE BOOK OF MORMON has truly become an international sensation. Contains explicit language.
We're Muslim Don't Panic
Featuring: Amirah Sackett & Ahmed Zaghbouni aka MR MiC
Wednesday, March 29, 2023 | 7:30 p.m.
Johnny Carson Theater
Internationally recognized hip-hop dancer and choreographer Amirah Sackett joins forces with world championship beatbox artist MR MiC for an evening where Beatboxing Meets Popping. Widely known for her creation "We're Muslim, Don't Panic," which reached viral video fame after being featured on POPSUGAR Celebrity, The Huffington Post, AJ+, and Upworthy, Sackett breaks down misconceptions about Muslim women and the Islamic religion using her artistic voice around the country and hometown of Chicago.
Yo-Yo Ma & Kathryn Stott
Thursday, March 30, 2023 | 7:30 p.m.
Following sold-out concerts celebrating the Lied Center's 20th and 25th Anniversary, Yo-Yo Ma returns to Nebraska with pianist Kathryn Stott for one of this season's "must-see" performances!
Winner of 19 GRAMMY® Awards, Yo-Yo Ma has built a multifaceted career that is a testament to his enduring belief in culture's power to generate trust and understanding. Yo-Yo Ma strives to foster connections that stimulate the imagination and reinforce our humanity.
Kathryn Stott was thrust into the life of a professional musician in 1978 via the Leeds International Piano Competition where she met Yo-Yo Ma. Since 1985, the two have enjoyed a collaboration that has taken them across the world and led to musical adventures with artists from various cultures.
Cirque Alfonse: Animal, A Farm Story
Saturday, April 1, 2023 | 7:30 p.m.
One of the world's top cirque troupes leads young and old on a journey to a reinvented land. The cattle-shed is crazy, and the barn is upside down! A gentleman-farmer surrounds himself with crazy creatures: the chickens have teeth, the ducks are very naughty, and the cows run amok! Agricultural cirque funk where the farm has gone haywire!
Huntertones
Thursday, April 13, 2023 | 7:30 p.m.
Huntertones brings people together with fun, imaginative, fearless music. The group's  high-energy, horn-driven sound fuses inspired improvisation and adventurous composition, melding jazz, funk, rock, and soul. Individually, members of Huntertones have compiled a diverse resume of collaborations with top artists, including Jon Batiste, Snarky Puppy, Stevie Wonder, Andy Grammer, Ed Sheeran, and more.
"Soulful, tasty and groovy. I dare you not to dance or be in a good mood during and after listening to this beautiful music." - Lionel Loueke
Madagascar the Musical
Saturday, April 15, 2023 | 2 performances
Saturday, April 15, 2023 – 3:00 p.m.
Saturday, April 15, 2023 – 7:30 p.m.
Join Alex, Marty, Melman, and Gloria as they bound out of the zoo and onto the stage in this live musical spectacular. The smash hit musical features all of your favorite crack-a-lackin' friends as they escape from their home in New York's Central Park Zoo and find themselves on an unexpected journey to the madcap world of King Julien's Madagascar. This brand-new musical from Dreamworks (Shrek The Musical) will leave audiences with no choice but to "Move It, Move It!"!
"Crack-a-lackin Fun for the Family." - Chicago Theatre Review
Van Cliburn Gold Medalist
Sunday, April 16, 2023 | 7:00 p.m.
Once every four years, a new gold medalist emerges from the Van Cliburn International Piano Competition. As Nebraska's official Van Cliburn presenter since 1994, the Lied Center presents the newly awarded Van Cliburn Gold Medalist for the first time. With previous winners including Olga Kern, Vadym Kholodenko, Jon Nakamatsu, and Joyce Yang, the Cliburn is widely considered to be one of the world's preeminent music contests.
Jagged Little Pill
April 25-30, 2023 | 7 Shows
Tuesday, April 25, 2023 – 7:30 p.m.
Wednesday, April 26, 2023 – 7:30 p.m.
Thursday, April 27, 2023 – 7:30 p.m.
Friday, April 28, 2023 – 7:30 p.m.
Saturday, April 29, 2023 – 2:00 p.m.
Saturday, April 29, 2023 – 7:30 p.m.
Sunday, April 30, 2023 – 2:00 p.m.
SOME SHOWS YOU SEE. THIS SHOW YOU FEEL. Joy, love, heartache, strength, wisdom, catharsis, LIFE—everything we've been waiting to see in a Broadway show— is here in the exhilarating, fearless new musical based on Alanis Morissette's world-changing music. Directed by Tony Award® winner Diane Paulus (Waitress, Pippin, upcoming 1776) with a Tony®-winning book by Diablo Cody (Juno) and GRAMMY®-winning score, this electrifying production about a perfectly imperfect American family "vaults the audience to its collective feet" (The Guardian). "Redemptive, rousing and real, JAGGED LITTLE PILL stands alongside the original musicals that have sustained the best hopes of Broadway." (The New York Times)
You live, you learn, you remember what it's like to feel truly human...at JAGGED LITTLE PILL.
ABT: Giselle
May 2-3, 2023 | 2 Shows
Tuesday, May 2, 2023 – 7:30 p.m.
Wednesday, May 3, 2023 – 7:30 p.m.
American Ballet Theatre (ABT) returns to the Lied Center to dance its universally acclaimed production of the heartbreaking romance Giselle after performing for a Nebraska audience of 6,000+ during summer 2021 in Lincoln's Pioneers Park. Giselle is a perfect match for the exquisite artistry and technical virtuosity of ABT's unrivaled roster of international ballet stars who bring the story of unrequited love, remorse, and forgiveness vividly to life. The New York Times proclaims "…this (Giselle) happens to be the best America has ever seen…"
"American Ballet Theatre's best, most moving classical production"
- New York Post
Hamilton
August 2-13, 2023 | 16 Shows
Wednesday, August 2, 2023 – 7:30 p.m.
Thursday, August 3, 2023 – 1:30 p.m.
Thursday, August 3, 2023 – 7:30 p.m.
Friday, August 4, 2023 – 7:30 p.m.
Saturday, August 5, 2023 – 2:00 p.m.
Saturday, August 5, 2023 – 8:00 p.m.
Sunday, August 6, 2023 – 1:00 p.m.
Sunday, August 6, 2023 – 7:00 p.m.
Tuesday, August 8, 2023 – 7:30 p.m.
Wednesday, August 9, 2023 – 7:30 p.m.
Thursday, August 10, 2023 – 7:30 p.m.
Friday, August 11, 2023 – 7:30 p.m.
Saturday, August 12, 2023 – 2:00 p.m.
Saturday, August 12, 2023 – 8:00 p.m.
Sunday, August 13, 2023 – 1:00 p.m.
Sunday, August 13, 2023 – 7:00 p.m.
HAMILTON is the story of America then, told by America now. Featuring a score that blends hip-hop, jazz, R&B and Broadway, HAMILTON has taken the story of American Founding Father Alexander Hamilton and created a revolutionary moment in theater—a musical that has had a profound impact on culture, politics, and education. With book, music, and lyrics by Lin-Manuel Miranda, direction by Thomas Kail, choreography by Andy Blankenbuehler, and musical supervision and orchestrations by Alex Lacamoire, HAMILTON is based on Ron Chernow's acclaimed biography. It has won Tony®, GRAMMY®, and Olivier Awards, the Pulitzer Prize for Drama, and an unprecedented special citation from the Kennedy Center Honors.