Lied events canceled or rescheduled through April 16, 2020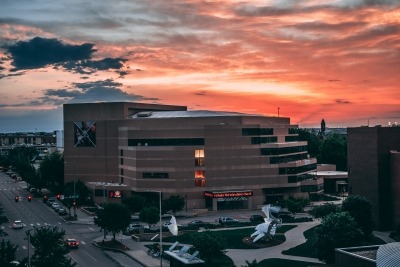 Lied events canceled or rescheduled through April 16, 2020
All major events at the Lied Center for Performing Arts have been canceled or rescheduled through April 16, 2020. Lied Center Executive Director Bill Stephan said, "We are determined to do our part to protect the health and safety of our audiences, artists, volunteers, and staff - particularly those who are most vulnerable to this disease. The World Health Organization has declared the coronavirus a worldwide pandemic and we do not make these decisions lightly."
CDC recommendations were issued on March 15, 2020 that gatherings of 50 people or more in the United States be canceled or postponed over the next eight weeks because of the coronavirus (COVID-19) pandemic. Governor Pete Ricketts has followed this recommendation and implemented this guidance for the state of Nebraska, asking all events and gatherings be less than 50 people. 
Rescheduled Events
Super Diamond, originally March 13, has been rescheduled to June 27, 2020 at 7:30 p.m.
Michael Londra and the Celtic Fire, originally March 17, has been rescheduled to July 18, 2020 at 7:30 p.m.
Kelli O'Hara, originally March 20, has been rescheduled to July 24, 2020 at 7:30 p.m.
Daniel Tiger's Neighborhood Live!, originally March 22, 2020, has been rescheduled to March 9, 2021
Boston Pops, originally April 5, has been rescheduled to October 8, 2020 at 7:30 p.m.
Canceled Events
Royal Winnipeg Ballet's Wizard of Oz, scheduled for March 28-29, 2020
Pippin, scheduled for April 1-11, 2020 (in partnership with Nebraska Repertory Theatre)
A Capella Live, scheduled for April 2, 2020 
Aspen Santa Fe Ballet, scheduled for April 11, 2020 
Air Play, scheduled for April 14, 2020 
Nebraska Jazz Orchestra, scheduled for April 28, 2020 
All Other Events after April 16, 2020 are TBD
The Lied Center and University of Nebraska are in communication with local health authorities regarding future events. We will provide an update on April and May, 2020 events as soon as we receive confirmation of each performer's touring status along with public health recommendations for events during this time period.
Ticket Exchange, Donation, and Refund Options
The Lied Center is happy to offer refund flexibility to ticket holders to one or more of the rescheduled or canceled events.
Info on Ticket Exchange, Donation, and Refund Options
For events that have been rescheduled, all previously issued tickets are valid for the new performance date or you can select one of the three options listed below.
The three options available to all patrons of rescheduled/canceled events are:
Convert your current tickets to an "on-account" credit that can be used for a future Lied Center performance (including season tickets).
Donate the value of your tickets back to the Lied Center (this would be tax-deductible as an in-kind gift); or
Request a refund for the value of your tickets via credit card or check. (Please note that we do not keep credit card information on file, so we will need you to call our Ticket Office and speak to one of our staff members)
Please note the Lied Center Ticket Office lobby is currently closed to the public. 
You can reach the Lied Center Ticket Office by phone at 402-472-4747 or liedcustomerservice@unl.edu, 
Mon-Fri 11:00 a.m. to 5:30 p.m.  
We take great pride in our ability to deliver exceptional customer service. In light of this unprecedented disruption to our events, we expect our phone lines to be busy and ask for your patience if it takes longer than usual to speak to someone. 
(Please do not send credit card information through email or leave it on voice mail messages.)
Information on any changes to other upcoming Lied Center performances will be shared as soon as possible. For continued updates, please visit the Lied Center and University of Nebraska COVID-19 websites: www.liedcenter.org/COVID19 & covid19.unl.edu/2019-novel-coronavirus-and-covid-19