The Lied's Arts Across Nebraska Takes 'The Flyovers' on Tour!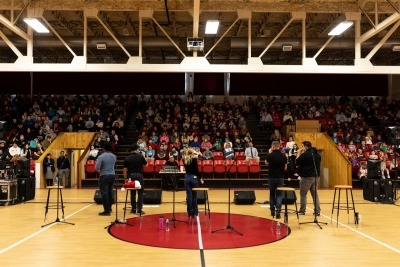 The Lied's Arts Across Nebraska Takes 'The Flyovers' on Tour!
High-energy acapella group 'The Flyovers' perform in Nebraska City, Fremont, and Pender
The Lied Center for Performing Arts' Arts Across Nebraska tours bring the best in music, theater, and dance to communities across the state! This November, AAN is bringing the high-energy acapella group to Pender, Fremont, and Nebraska City.
The Flyovers are a modern a cappella quintet from Lincoln, Nebraska.  Consisting of two tenors (Ether Saure and Lucas Kellison), a soaring soprano (Anna Claridge), a rumbling bass (Bill Catlett), and an impossible beatboxer (D-Wayne), the group has grown regionally in popularity from their unusually humble beginnings.   
Formed during the pandemic, The Flyovers released their first two albums, 'Tis the Season! (2020) and Now and Then (2021) before they ever met as a group!  Both albums did well in the region, and the group celebrated their first in-person performance at the Nebraska State Fair in fall of 2021. Their third album, Holiday, was released in November of 2021 to similar success, and they are currently in production for their debut Gospel album, For Your Glory, to be released in fall of 2022. Other recent performances have included holiday shows at the Minden Opera House, Doane University, The 1206, and several others. 
Learn more about these exciting artists at flyoversmusic.com.
The Flyovers' Arts Across Nebraska Tour includes the following dates:
Pender Community Center
614 Main St Suite #3, Pender, NE 68047.
Monday, November 28, 2022
7 PM
TICKETS: $10
Fremont Opera House
Tuesday, November 29, 2022
7 PM
Tickets are $15 and can be reserved at fremontoperahouse.org or purchased at the door
Local sponsors: First State Bank & Trust Company and Fremont Public Schools
Nebraska City High School Auditorium
Wednesday, November 30, 2022
7 PM
Performance offered free of charge, no tickets required