Lied Center to Announce Season Preview Events, Full Spring 2021 Season Announcement Coming February 2nd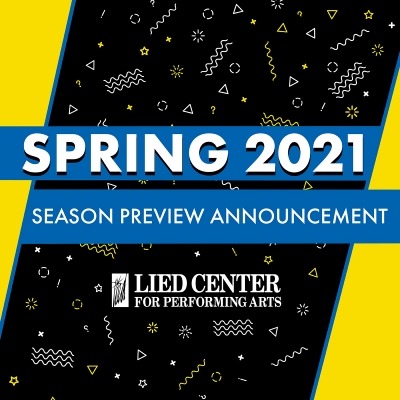 Lied Center to Announce Season Preview Events, Full Spring 2021 Season Announcement Coming February 2nd
The 2021 Spring Season begins with acclaimed pianist Joyce Yang, thrilling dance from choreographer Ronald K. Brown/EVIDENCE, and the return of Dixie Longate.
On February 2, the Lied Center will announce a full lineup of in-person and virtual events for Spring 2021. Tickets go on sale to the public on February 9, 2021 at 11am.
Lied Center Executive Director Bill Stephan said, "We are thrilled to offer dozens of exceptional events in a mix of genres this Spring. With safety at the forefront, we're moving forward and fulfilling our mission of educating, inspiring, and entertaining the people of Nebraska through the performing arts."
While the full spring season will be announced on February 2nd, tickets are available NOW for three online Season Preview events: Joyce Yang, Piano (Jan. 30), Ronald K. Brown / Evidence (Feb. 5) and Dixie's Happy Hour (Jan. 29, Feb. 5, & Feb. 12). More LIVE HD performance webcasts will be announced on February 2, 2021.
Virtual tickets for each performance date are now available for purchase here.
America's favorite Tupperware lady is back! Right now, the world needs a drinking buddy… and there's no one more qualified for the job than Alabama's favorite daughter, Dixie Longate – a gal who's never too far away from a cocktail. Spend an evening with Dixie on this uproariously raucous joyride where she'll inspire you to find your personal happy hours while serving up the four basic food groups: gin, rum, vodka and tequila.
Note: Dixie is a live wire! This performance contains language and material best enjoyed by adults.
FREE virtual reservations can be made here, and there is also the option to add a donation to support the Lied Center.
With performances descried as "extraordinary" and "kaleidoscopic" (Los Angeles Times), a "knockout" (New York Times), and "poetic and sensitive" (Washington Post), Grammy-nominated pianist Joyce Yang captivates audiences with her virtuosity, lyricism, and interpretive sensitivity. This Van Cliburn Competition medalist had been scheduled to perform on the Lied Center stage in collaboration with Aspen Santa Fe Ballet in April of 2020, and now she'll take the Lied's (virtual) center stage in a special concert recorded specifically for the Lied Center featuring the music of Grieg, Rachmaninoff, and Chopin.
This exceptional free concert is made possible by Lied Center Piano Circle donors Mary-Ann K. Clinton, Anabeth H. Cox, MarySue Harris, Keith Heckman & Janet Danielson, Charlotte Heermann, Mrs. Larry H. Lusk, Joan M. Reist, and Diana H. Warner, as well as support from the Anabeth Hormel Cox Lied Center Performance Fund and the Joe W. & Ruth K. Seacrest Fund.
FREE virtual reservations can be made here, and there is also the option to add a donation to support the Lied Center.
Founded by Ronald K. Brown in 1985 and based in Brooklyn, New York, Evidence, A Dance Company focuses on the seamless integration of traditional African dance with contemporary choreography and spoken word. Through work, Evidence provides a unique view of human struggles, tragedies, and triumphs. Brown uses movement as a way to reinforce the importance of community in African American culture and to acquaint audiences with the beauty of traditional African forms and rhythms.
Originally choreographed for the Alvin Ailey American Dance Theatre in 1999, Grace became a part of the EVIDENCE repertory in 2004. Grace weaves the story of a Goddess' journey to Earth to spread grace among humans, ultimately welcoming them to heaven.
This special virtual performance is supported by the Lied Center Dance Circle donors Priscilla C. Grew, Brent & Robin Korte, and Steve Wake, and MOSAIC Circle donors Priscilla C. Grew, Dr. Colleen Jones, Cheyenne & Hector Santiago, Rhonda Seacrest, and Art & Chris Zygielbaum, and the Sheila Delaney Griffin Lied Endowment Fund.
In addition, three shows scheduled for Spring 2021 have been rescheduled:
Super Diamond, originally January 30, 2021, will now perform on April 17, 2021.
Kelli O'Hara, originally February 13, 2021, will now perform on June 12, 2021.
Michael Londra & the Celtic Fire, originally March 17, 2021, will now be presented March 16 & 17, 2021.
Patrons with tickets to these events will be contacted directly with information about the new dates.
As the COVID19 pandemic continues to impact the touring schedules of many artists and shows, some events previously announced for Spring 2021 have been affected. Whenever possible, we'll be working with the artists who were originally scheduled for the 2020-2021 season to find new dates in the future, whether that's next season or a season or two down the road. For the most current list of event changes and rescheduled dates, please visit liedcenter.org/covid19.